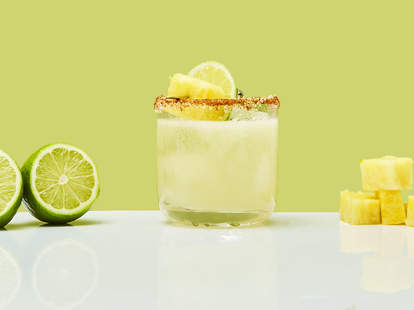 There's no way to screw up the unbeatable combination of tequila, pineapple and lime, but this perfectly balanced Pineapple Margarita is guaranteed to be the best tasting version you've ever had. Our take on the tropical Margarita is served on the rocks and calls for reposado tequila, which has been aged in oak barrels for a minimum of two months—but less than a year (any longer and it become an añejo). While you can certainly use any type of tequila in your Pineapple Margarita, in our Goldilocks-style testing, reposado tequila was neither too biting nor too robust of a match for the sweet-tart pineapple juice; it was just right—smooth, with a strong agave flavor and subtle notes of vanilla, wood and tropical fruit. Fresh-pressed pineapple juice would yield the most refreshing, natural-tasting Margarita. But if all you have is pineapple juice from a can—perhaps it's winter and you're trying to enjoy summer vicariously through a glass—it's still going to taste delicious. We also recommend rimming the glass with chipotle salt (to bring out those summer barbecue flavors) and a grilled pineapple wedge, but you can also use regular sea salt (or skip the salt rim altogether). Then garnish with a skewer of cubed pineapples from the can, a lime wedge or a pineapple leaf, or just leave it plain Jane. Don't overthink it—a Pineapple Margarita is a vacation in a glass, and you need only kick back and relax with it in hand.
INGREDIENTS
2 oz

Reposado tequila

1 oz

pineapple juice

1 oz

lime juice

.5 oz

agave

pineapple wedge

chipotle salt
INSTRUCTIONS
Step two
In a shaker tin with ice, add reposado tequila, lime juice, agave nectar and pineapple juice (ideally fresh-pressed).
Step four
Garnish with a pineapple wedge.
Contributed by Supercall