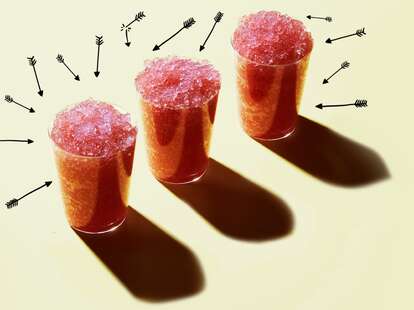 "Nashville summers are very hot," says Matt Tocco, the beverage director at Nashville's Pinewood Social. To combat the heat, he combined two warm weather cocktails into the ultimate weapon: frozen Sangria. A perfect poolside sipper, this Sangria blends fruity red wine with citrus juices, dry curaçao, Applejack, St-Germain and—something you don't often see on Supercall—Sprite. It's a frosty pink glassful of sweet heat-relief.
Pinewood Social Sangria
INGREDIENTS
1 750-mL bottle

Wine

8 oz

Laird's Applejack

16 oz

Fresh Orange Juice

8 oz

Grapefruit Juice

16 oz Simple Syrup
8 oz

St-Germain

6 oz

Pierre Ferrand Dry Curaçao

16 oz

Sprite

30 oz

Water

.5 oz

Orange Blossom Water

Ice
INSTRUCTIONS
Step one
Pour all of the ingredients except ice into a large container and stir to combine.
Step two
Blend with ice in batches until slushy. Serve in tumblers or pool-friendly plastic cups.
Contributed by Matt Tocco