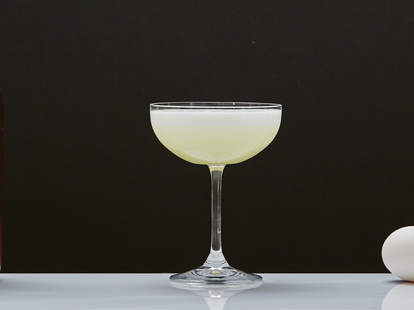 Matthew Kelly / Supercall
Both Chile and Peru lay claim to pisco as their national spirit, and the battle for the unaged grape brandy has been raging for a very long time. Lest you think this is some cute little spat over national pride, according to the distiller of Pisco Portón, one of the best selling brands in the U.S., Peruvian pisco is not allowed to have the word "pisco" on the label of any bottles exported to Chile. But regardless of who was actually the first to distill pisco, the fact that the Pisco Sour was invented in Peru should give them a leg up on Chile in terms of who does pisco best. The Pisco Sour is the quintessential South American cocktail, created by American expat bartender Victor Vaughn Morris in the early 1900s at his establishment, the Morris Bar, in Lima, Peru. Known for its signature use of egg whites and deceptively dry finish, the Pisco Sour did not contain Angostura bitters until the recipe was later modified by Mario Bruiget, a Peruvian bartender at the Morris Bar. The cocktail uses Peruvian limón for its bracing citrus edge, an ingredient that is often hard to find by those trying to authentically recreate it. Assuming you aren't making this cocktail in Peru, we recommend using freshly pressed key lime juice in place of the limón—it's the closest substitute to the South American citrus. Also, for an herbal twist on the traditional Angostura bitters, opt for Peruvian Amargo Chuncho bitters.
INGREDIENTS
3 oz

pisco

0.75 oz

lime juice

0.75 oz Simple Syrup
1

Egg Whites

3 dashes

bitters
INSTRUCTIONS
Step one
Add all ingredients, except the Angostura bitters, to a shaker tin with no ice. Dry shake.
Step two
Break the seal on the tin and add ice.
Step three
Shake for at least one minute more.
Step four
Using a Hawthorne strainer, strain into a chilled lowball glass.
Step five
Add three dashes of bitters onto the layer of egg whites.
Step six
Using a toothpick, swirl the bitters into the foam.
Contributed by Supercall