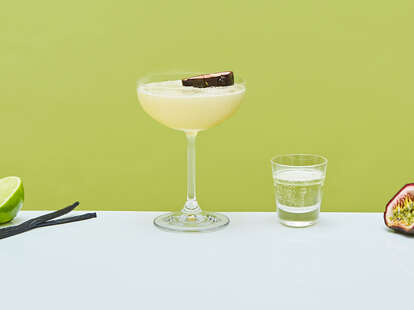 Marisa Chafetz / Supercall
The idea of a passion fruit-flavored Martini is genius, as passion fruit's sweet, tangy, tropical flavor mixes beautifully with vodka, creamy vanilla syrup, and zingy lime juice. The concept of a "pornstar" Martini, on the other hand, doesn't go down as smoothly—even though it's simply said passion fruit Martini, served with a sidecar of Champagne. Like many libations from the cocktail dark days, the drink is simply a victim of branding. Martinis of the late '90s and early 2000s were flavored with all sorts of fruit juices and sweet mixers. None of these flavors are inherently bad—even the much-maligned Appletini, when made correctly, would stand up among properly balanced classics. While many of these 'tinis were invented by respectable bartenders with a real sense of flavor and balance, during the transition from flashy, low-brow '90s drinks to the era of craft cocktails in the 2000s, some drinks still harkened back to that pre-reformation, clubby persona. The Pornstar Martini is one such drink, simply born in the wrong era. It was invented by London bartender Douglas Ankrah of the famed LAB (London Academy of Bartending) and Townhouse bars, which were instrumental in London's advancement into the modern cocktail era. To hear Ankrah tell it, he named the drink not for a specific actor in the porn industry, or to make the drink seem dirty or alluring, but rather to evoke the "bold, sexy and playful" attitude of the adult film industry. Take that for what you will—if you look past the Pornstar Martini's laughable name, you'll find a drink that's remarkably satisfying.
Suggested Ingredients: You likely won't find straight passion fruit juice, but pre-sweetened nectar is fine (just look for the least sweetened version you can find and balance the cocktail accordingly, toning down the vanilla syrup to taste). As for the shooter of sparkling wine, the Champagne sidecar actually makes a nice pairing for the sweet-tart Martini (like a luxe Boilermaker), but feel free to use your preferred affordable Prosecco.
Pornstar Martini
INGREDIENTS
2 oz

vodka

1 oz

Passion Fruit Juice

.5 oz Vanilla Syrup
.5 oz

Fresh Lime Juice

1.5 oz

Sparkling wine
INSTRUCTIONS
Step one
Combine vodka, passion fruit nectar, vanilla syrup and lime juice in a shaker with ice, and shake.
Step two
Strain into a coupe and garnish with a passion fruit half.
Step three
Serve with a shot of preferred bubbly.
Contributed by Supercall