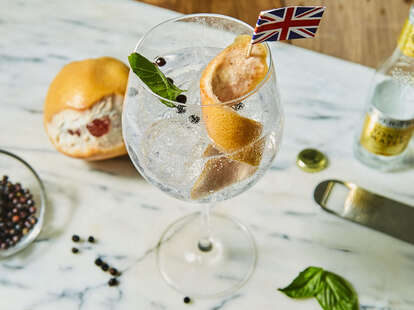 Marisa Chavetz / Supercall
The British were the ones to add gin to tonic, and they were also the first to create a gin-themed hotel. The Distillery in London, founded by the folks behind Portobello Road Gin, houses multiple gin bars, the Ginstitute (a center for gin education) and even a gin museum. It is a true temple of gin. At GinTonica, the hotel's tapas bar, director Jake Burger created a selection of Gin & Tonics. None of them are like the Gin & Tonics of his youth, though. "The first time a drop of gin found its way into tonic I don't recall," he says. "But like most people of a certain age, it was probably Gordon's gin and Schweppes tonic with a slice of lemon and not enough ice." His nouveau British G&T is made with Portobello Road Gin (a classic London Dry style gin), Fever Tree Mediterranean Tonic Water and a quartet of garnishes (grapefruit twist, basil leaf, juniper berries and ground coriander seed). It's served in a Spanish-style copa with, per Burger, lots of ice—to make up for those first few G&Ts of his youth, and also to keep dilution to a minimum. You don't want to miss any of those ultra-British juniper flavors.
Portobello Road Gin & Tonic
INGREDIENTS
2 oz

Portobello Road Gin

Tonic Water

Grapefruit Twist
INSTRUCTIONS
Step one
Fill a large wine glass with lots of ice.
Step two
Add gin and top with tonic. Stir briefly.
Step three
Garnish with a grapefruit twist, basil leaf, juniper berries and coriander seeds.
Contributed by Jake Burger