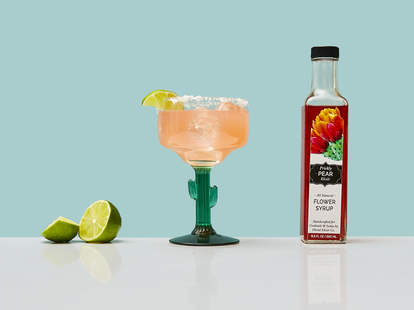 Marisa Chafetz / Supercall
A prickly pear is technically a cactus—a bright, neon pink bulb that grows at the tip of a cactus' paddle-like leaf, to be exact. When mixed into a Margarita, the desert-grown delicacy provides the classic cocktail with a floral twist. There's no crazy prep work involved, so you won't be pulling spines out of your fingertips after mixing this libation. Made with a prickly pear syrup, which can be bought online, the cocktail gets all of the plant's unique flavors—and its lively, Lisa Frank-esque hue—without the hassle. Extremely refreshing, this Marg is the ideal accompaniment to spicy Mexican food or high-heat barbecue on a sweltering summer day.
Because of the florality of the syrup and brightness of the lime juice, we find that it is best to use a fresher, spicier blanco tequila. The prickly pear syrup is more delicate than you might think, so its subtle nuances can easily get lost in an aged tequila or a blanco bottling that is too fruity or floral. Some of the bottles that we like to use are 86 and Co.'s blanco, Casamigos blanco or Fortaleza's blanco tequila. This Margarita is also super delicious with smoky, mineral-rich espadín mezcals like Casamigos or Fidencio Clásico. Their herbaceous savoriness perfectly complements the lime's acidity and the floral sweetness of the prickly pear. As with any Margarita, squeezing fresh lime juice is absolutely key. We go as far as pressing the limes straight into the jigger or into the shaker tin for zero chance of oxidation.
INSTRUCTIONS
Step one
Rub a lime wedge around the edge of a Margarita glass. Dip the wetted rim into salt. Reserve.
Step two
Add all ingredients—sans garnish—to a shaker tin with ice. Shake.
Step three
Using a Hawthorne strainer, strain the cocktail into a Margarita glass rimmed with salt. Add fresh ice and garnish with a lime wedge.
Contributed by Supercall