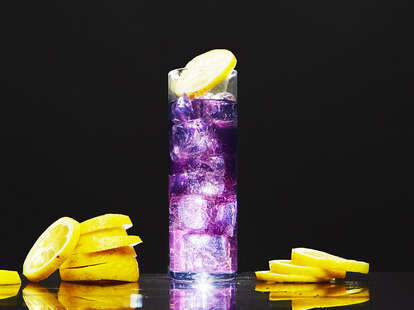 Matthew Kelly / Supercall
Inspired by The Purple One himself, this vibrantly violet cocktail from NYC's new The Horny Ram gets its color from butterfly pea flower tea (available online). When steeped with water, the tea turns bright blue, but when mixed with lemon juice, it changes to a dreamy purple. The drink's flavor matches its floral color: Made with lavender syrup and mild New Amsterdam gin, it's perfect for sipping in a spring garden (or at home in front of the TV). Feel free to play around with the color, adding more lemon juice for a brighter, pinker cocktail or more butterfly pea flower tea for a richer purple.
The Cocktail Formerly Known As...
INGREDIENTS
1.5 oz

Gin

2 oz

Butterfly Pea Flower Tea

.75 oz

Lavender Syrup

1 oz

Lemon Juice

club soda

Lemon Wheel
INSTRUCTIONS
Step one
Brew Blue Pea Flower Tea according to the label and let cool.
Step two
Combine gin, tea, lemon juice and lavender syrup in a shaking tin.
Step three
Fill halfway with ice and shake for five seconds.
Step four
Strain into a Collins glass with fresh ice.
Step five
Top with club soda and garnish with a lemon wheel.
Contributed by Cody Goldstein