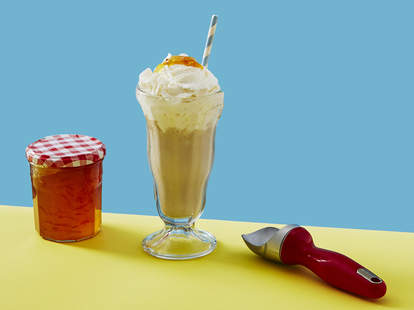 Matthew Kelly / Supercall
Boozy milkshakes are nothing new. But boozy milkshakes based on classic cocktails are harder to come by, which is why we got so excited about this creation from NYC bar Butter & Scotch's cookbook. "The Ramos Gin Fizz has always been a favorite of mine, so when it occurred to me to incorporate it into our ice cream cocktail selections, I couldn't wait," says Jen Marshall, Butter & Scotch's former beverage director. "After many iterations, we settled on this recipe. I'm especially happy with the texture and extra orange punch provided by the marmalade, while still keeping it traditional with the orange blossom water." Gin gives this sweet delight a dry, floral touch, while lime juice provides the right amount of sour. Cocktailians, you've met your milkshake.
INGREDIENTS
1.5 oz

Gin

.5 oz

Lime Juice

.5 oz

Orange flower water

1 tbsp

Orange marmalade

3 scoops

Vanilla Ice Cream

Whipped Cream
INSTRUCTIONS
Step one
Add all ingredients save for the garnish to a blender and blend until smooth.
Step two
Pour into a milkshake glass, and garnish with fresh whipped cream and a dollop of marmalade.
Contributed by Jen Marshall