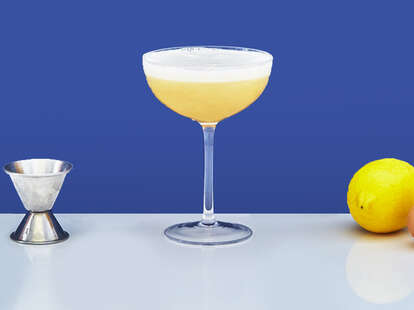 Matthew Kelly / Supercall
Featured in Harry Craddock's 1930 tome The Savoy Cocktail Book, this lost classic packs a deceptively boozy bite. Essentially a twist on the Whiskey Sour, the Rattlesnake starts with a base of peppery rye whiskey and the Whiskey Sour's usual lemon juice and simple syrup. This variation, however, gets an additional kick from high-proof absinthe. To prevent the drink from becoming excessively sour, egg white is added to dry out the flavor and give the drink its signature frothy head. If you find you like this drink as much as we do, just remember this bit of wisdom from Craddock himself before indulging in round two: The drink "will either cure a rattlesnake bite, or kill rattlesnakes, or make you see them."
Rattlesnake
INGREDIENTS
2 oz

Whiskey

0.75 oz

Lemon Juice

0.75 oz

Egg Whites

0.5 oz Simple Syrup
0.25 oz

Absinthe
INSTRUCTIONS
Step one
Add the rye whiskey, lemon juice, simple syrup, absinthe and egg white to a shaker. Dry shake for at least 1 minute.
Step two
Add cubed ice and continue shaking the drink for another minute.
Step three
Using a Hawthorne strainer, strain the cocktail into a chilled coupe glass, and enjoy.
Contributed by Supercall