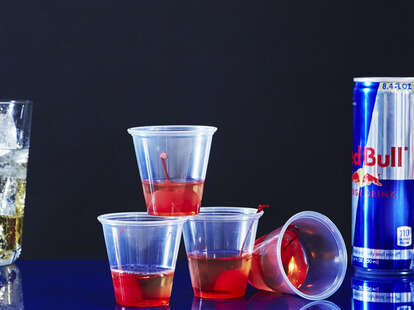 The Red Bull-Vodka has a lot of haters who say it's an unacceptable cocktail (if you can even call it that) anywhere outside of a college basement. But the simple vodka drink also has a robust fanbase made up of people who exclusively make and order Red Bull-Vodkas, and wouldn't dream of kickstarting a night with any other boozy concoction. (Even royalty gets in on the fun—Prince Harry allegedly enjoys a good RBV every now and then.) It is for those fans that we combined the drink with another frat party classic, Jello Shots, to make Red Bull-Vodka Jello Shots. Easy to make and delicious to eat (as long as you're partial to that bittersweet Red Bull tang), there's not much more to the shots besides their namesake cocktail's main ingredients: vodka (don't worry about buying anything expensive; your everyday plastic bottle will do nicely), Red Bull, gelatin and water (to dilute the mix down just enough for the shots to set). These jiggly Jello Shots even come complete with their own handles. Drop a stemmed maraschino cherry into each of the plastic cups, then top them with the jello mixture. When it sets, you can pull out the Jello Shot by the stem and plop it straight into your mouth (don't swallow the stem, please). Whip up a batch of these Red Bull-Vodka Jello Shots the next time you're planning on throwing an all-night rager, and don't be surprised if you convert a few Red Bull-Vodka haters in the process.
Red Bull Vodka Jello Shots
INGREDIENTS
1 8.4 oz can

Red Bull

1 packet

unflavored gelatin

.5 Cup

Vodka

.5 Cup

Water

Maraschino cherries, for garnish
INSTRUCTIONS
Step one
Pour the Red Bull into a pot and heat it on the stove, pulling it off the heat once you see the first bubble.
Step two
Add the gelatin to the Red Bull and stir to dissolve.
Step three
Slowly add the vodka, stirring to combine.
Step four
Divide the mix into plastic cups.
Step five
Cut cherries in half and place the top halves with the stems into every cup.
Step six
Chill for at least two hours, until set.
Contributed by Supercall