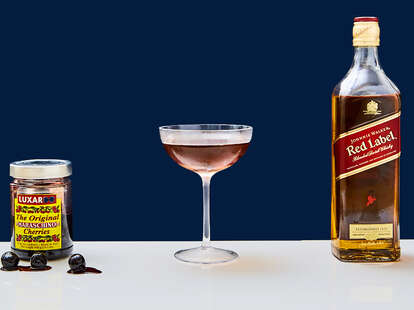 Maris Chafetz / Supercall
A smoky take on a Manhattan, the Rob Roy is made with Scotch whisky instead of rye. The variation was first created in 1894 at the Waldorf Astoria in New York for the premiere of Rob Roy, an operetta based on Scottish folk hero Rob Roy MacGregor. Like a Manhattan, the Rob Roy can be made dry (with dry vermouth in place of sweet) or perfect (with equal parts of each).
Rob Roy
INGREDIENTS
2 oz

Scotch

1 oz

Sweet Vermouth

2 dashes

Bitters

Brandied Cherry (for garnish)
INSTRUCTIONS
Step one
Add all ingredients except for the brandied cherry to a mixing glass
Step two
Fill the mixing glass one-third of the way with cubed ice.
Step three
Using your bar spoon, stir the cocktail.
Step four
Strain the cocktail using a julep strainer, into a chilled coupe glass.
Step five
Garnish with a brandied cherry.
Contributed by Supercall