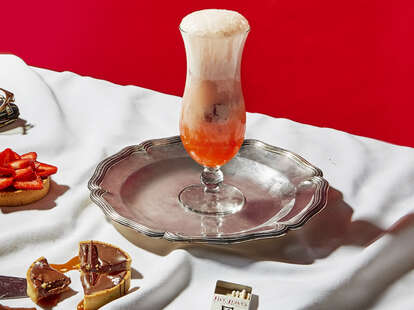 If you think this cocktail looks appetizing, just wait until you taste it. One of many fantastic boozy floats created by Allison Kave at Brookyn's Butter & Scotch, the cocktail combines two summertime staples (rosé and strawberry ice cream) with Aperol for a sweet—but not too sweet—dessert drink.
Pretty in Pink
INGREDIENTS
3 oz

Rosé

1 oz

Aperol

1 Scoop

Ice Cream

Seltzer
INSTRUCTIONS
Step one
Pour the Rosé and Aperol into a pint glass.
Step two
Drop in the scoop of ice cream and top with seltzer. Serve with a spoon and a straw.
Contributed by Allison Kave