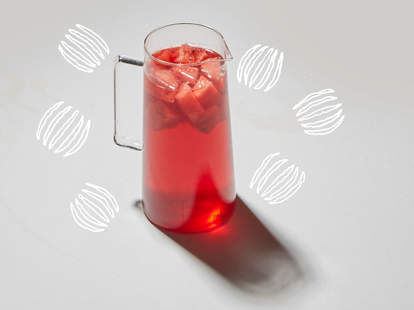 Boston's Oak Long Bar + Kitchen developed this rosy-hued Sangria with summer BBQs and patio lounging in mind. The recipe combines two warm weather staples: sweet, juicy watermelon and rosé—it might be the best method ever devised to drink pink.
INGREDIENTS
2 750-ml bottles

Rosé

1.5 cups

Liqueur

2 cups

Fresh Lemon Juice

2 cups Simple Syrup
3

Lemons, Sliced

2 cups

Watermelon Meat, Chopped

Watermelon
INSTRUCTIONS
Step one
Combine all ingredients except watermelon slices in a large container and stir. Cover and let stand overnight.
Step two
Strain into a large pitcher or punch bowl, and add ice.
Step three
Serve in glasses garnished with watermelon slices.
Contributed by Oak Long Bar + Kitchen