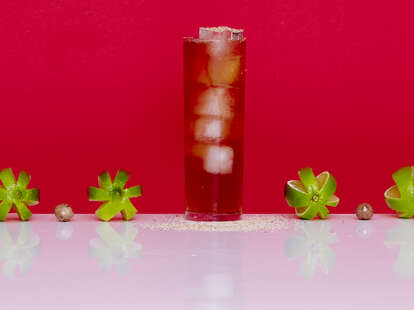 One of the oldest punch recipes in existence, the Rum Punch—a.k.a. the Bajan (short for Barbadian) Rum Punch—comes with a quaint mnemonic device to help you remember the simple formula: "One of sour, two of sweet, three of strong and four of weak. A dash of bitters and a sprinkle of spice, served well chilled with plenty of ice." Commit that verse to memory and you'll always be prepared to mix up one of history's great cocktails.
Rum Punch
INGREDIENTS
.5 oz

lime

1 oz simple syrup
1.5 oz

dark rum

2 oz

water

2 to 3 dashes

Angostura Bitters

nutmeg
INSTRUCTIONS
Step one
Add all ingredients except for the nutmeg to a highball glass filled with fresh ice and stir to combine.
Step two
Garnish with freshly grated nutmeg.
Contributed by Supercall
Mix It Up!
To make a pitcherful of Rum Punch, simply convert all of the measurements into cups. So, 1 oz of
simple syrup
turns into 1 cup of simple syrup and so on.