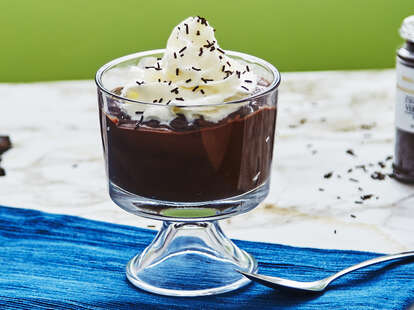 Matthew Kelly / Supercall
While the days of snack packs may be behind us, we've replaced the childhood favorite of chocolate pudding with something way better: a boozed-up version that's just as easy to make as it is to devour. Spiked with rich RumChata liqueur (a rum-based cream liqueur flavored like horchata) and topped with a dollop of homemade whipped cream, and a final scattering of chocolate sprinkles to make you feel like a kid again. It's the perfect way to end a dinner party or treat yourself to a boozy afternoon snack.
Relatives of Jello Shots, pudding shots have crept up in popularity over the past decade. Another way to eat your booze, pudding shots are creamy and extremely decadent. And, unlike most Jello Shots, you can serve them at a dinner party without anyone giving you the side eye. This RumChata-based recipe is particularly good as a sweet treat after a feast. They're easy to put together ahead of time and, thanks to the whipped cream and sprinkles, they are photo ready. Serve them in small glass bowls and be sure to warn your guests that a full cup of creamy RumChata went into their delicious desserts. While our recipe calls for instant Jell-O brand pudding, you should feel free to make your own from scratch if you so choose. Or, conversely, you should also feel free to use store bought whipped cream in a can if you don't want to take the time to make your own whipped cream from scratch.
RumChata Chocolate Pudding
INGREDIENTS
1

Rumchata

2 cups

Whole Milk

1 package

Jell-O Cook & Serve Chocolate Pudding

2 oz

dark chocolate, finely chopped

Chocolate sprinkles
INSTRUCTIONS
Step one
Add the RumChata, milk, Jell-O pudding and chocolate to a saucepan, and heat over medium heat.
Step two
Bring to a boil, whisking constantly, until the mixture becomes smooth and thickens.
Step three
Transfer to a bowl and refrigerate until cold.
Step four
When ready to serve, give it a good stir and spoon into bowls. Top with whipped cream and chocolate sprinkles.
Contributed by Supercall