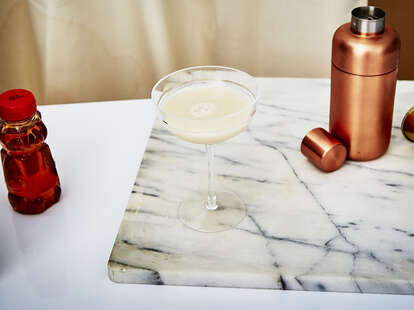 Matthew Kelly / Supercall
While mixing creamy RumChata with scotch seems like an odd combination, we assure you it's not. When paired together, the smoky dram becomes fruitier and richer, and the cream liqueur loses some of its syrupy sweetness. Made with a blended scotch, a heavy dash of orange bitters and rum-heavy, spiced RumChata liqueur, this cocktail is as cozy as a cashmere blanket. A finishing spritz of ultra-peaty Laphroaig adds depth, dryness and a hint of campfire smoke. Come the first snow this winter, we know exactly what we'll be drinking.
Milk Mustache
INGREDIENTS
2 oz

Scotch

0.75 oz

Rumchata

0.25 oz Honey Syrup
2 dashes

bitters

Laphroaig mist, for garnish
INSTRUCTIONS
Step one
In a shaker tin, add the blended scotch, honey syrup, RumChata and bitters with ice. Shake.
Step two
Using a Hawthorne strainer, strain the cocktail into a chilled coupe glass.
Step three
Garnish with a misting of Laphroaig.
Contributed by Supercall