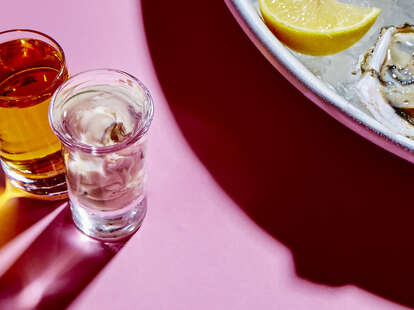 Matthew Kelly / Supercall
Inspired by the massive success of the Pickleback shot, Paul Taylor of Washington DC's Eat the Rich thought, "Why not add an oyster?" Voila, the Oysterback was born. Taylor likes to use Barcat oysters in this shot. Sourced from the Rappahannock River, these oysters are sweet and creamy—a perfect complement to the salty pickle brine—but any mild oyster will do.
Oyster Back
INGREDIENTS
1.5 oz

whiskey

Oyster

Pickle Brine
INSTRUCTIONS
Step one
Pour rye into a shot glass.
Step two
In a separate shot glass, add the oyster and top with pickle brine.
Step three
Shoot the whiskey and chase with the oyster shot.
Contributed by Paul Taylor