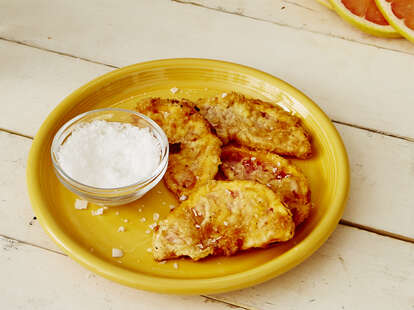 Matthew Kelly / Supercall
Crispy, fried citrus slices often appear on the sidelines of calamari or frito misto platters, but we think they deserve to play a starring role. So we doused some in booze and pointed them in the direction of the spotlight. In this edible, sweet-tart take on the Salty Dog, vodka-soaked grapefruit slices take a dip in simple syrup and flour, before a hot, bubbly bath in oil. They're even finished off with a sprinkling of sea salt. They make for the perfect poolside snack or picnic munchie.
Deep Fried Salty Dog Shots
INGREDIENTS
1

Grapefruit

2 cups

Vodka

1 Cup Simple Syrup
2/3 Cup

flour

2 tsp

sea salt

Vegetable oil
INSTRUCTIONS
Step one
Soak grapefruit slices in vodka for at least an hour or until they reach the desired level of booziness.
Step two
After the grapefruit is done soaking, dip the slices in simple syrup. Lay them on a paper towel-lined plate to soak up excess moisture.
Step three
Add 2 inches of oil to a deep fryer or high-sided pan and heat to 350 degrees Fahrenheit.
Step four
Dip each slice in the flour and shake lightly to remove the excess.
Step five
Gently add the grapefruit slices to the hot oil and fry until they're golden on all sides. Using a slotted spoon, remove grapefruit and drain on a paper towel-lined plate. Repeat until all slices have been battered and fried.
Step six
Sprinkle the fried grapefruit with salt and serve.
Contributed by Supercall