The Secret to Making the San Francisco Giants' Garlic Fries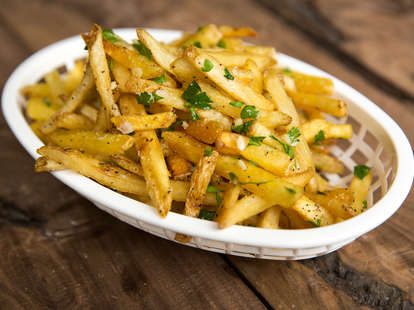 Perry Santanachote/Thrillist
You don't hear much about the San Francisco Giants over here on the East Coast. (Didn't they win some kind of trophy recently or something?) What you do hear, though, is about their ballpark's garlic fries, which fans basically won't shut up about. Hell, even visiting fan bases sing the praises of AT&T Park's famous fries. And as Thrillist's resident Recipes Editor, I obviously had to see what all the fuss was about.
The concession stand is called Gilroy Garlic Fries, named after the town of Gilroy, California, aka the "garlic capital of the world." The extra-crispy fries are dredged with a heavy dose of fresh minced garlic, olive oil, and parsley, and served with a complimentary breath mint. And yes, its garlic fries are the best I've ever had.
Three thousand miles is a long way to travel for fries, though, so we ever-so-sweetly begged Bill Greathouse, the Giants' garlic fries grail knight/Senior VP of Concessions, for the recipe, and... he ACTUALLY GAVE IT TO US. It's pretty simple (you can make 10 cups' worth in 20 minutes with the recipe below), so I had to know, "What makes yours so much better than everyone else's?"
"The fans make ours better," he said. "Because of the high demand, the product is always hot and fresh." Well, you can't argue with that. To the recipe!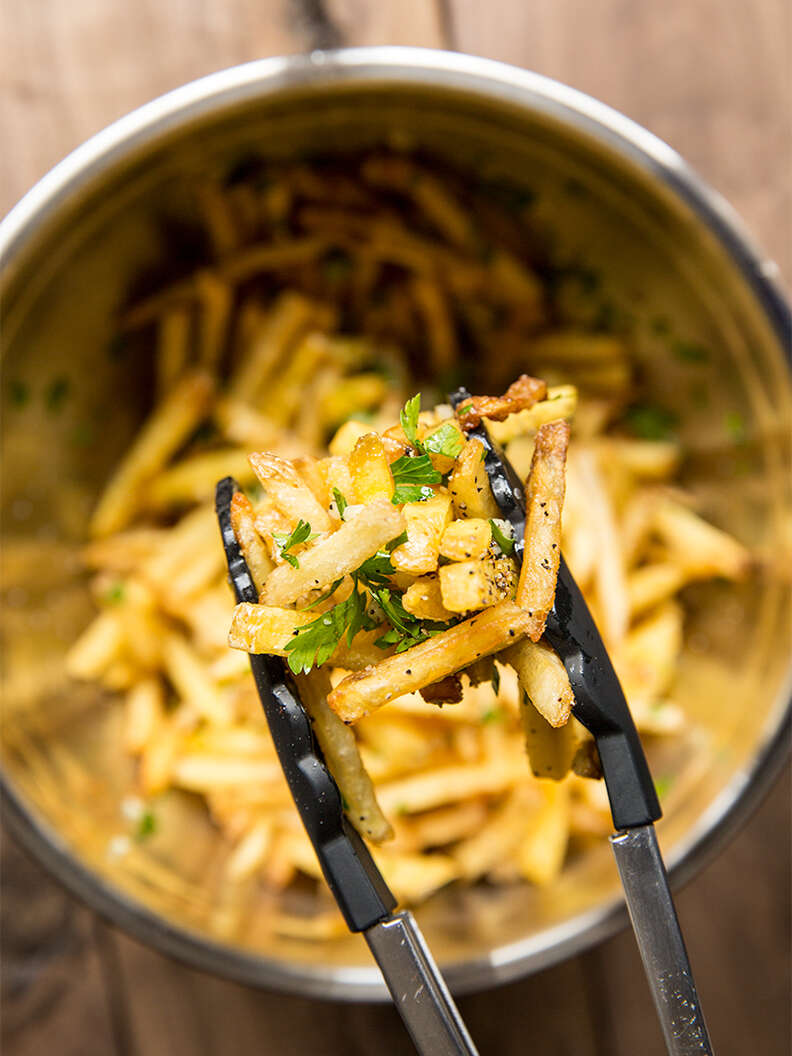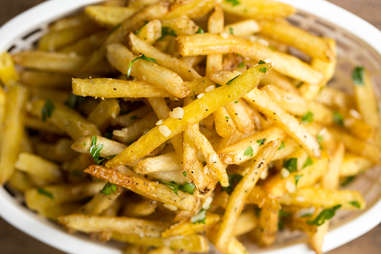 Giants Garlic Fries Recipe
Total Time: 20 minutes
Yield: 10 cups
INGREDIENTS:
2 quarts vegetable oil
2 pounds frozen French fries (⅜-inch cut with some skin on)
⅔ cup extra virgin olive oil
3 tablespoons chopped fresh garlic or water-packed garlic in the jar
¼ cup chopped fresh parsley
1 teaspoon kosher salt
1 teaspoon coarsely ground black pepper
DIRECTIONS:
Heat oil to 375℉ in a deep fryer or heavy-bottomed pot fitted with an oil thermometer. Fry frozen fries until brown (beyond golden), about 15 minutes. You want to overcook them slightly so the garlic sauce soaks in without making them soggy.
Combine olive oil and garlic in a lidded jar and shake to thoroughly combine, or whisk together in a small bowl; set aside.
Drain fries and dump them into a large bowl. Pour garlic oil onto the fries, coating them evenly. Add parsley, salt, and pepper; toss to coat.
Eat them hot.
Sign up here for our daily San Francisco email and be the first to get all the food/drink/fun SF has to offer.