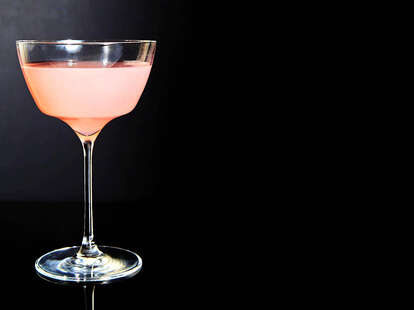 Marisa Chafetz / Supercall
Marisa Chafetz / Supercall
"I think people are often embarrassed to ask for a Cosmopolitan," says Will Elliot, beverage director at Brooklyn's Sauvage. "But the Cosmo is a valid and very delicious drink if made correctly." Sauvage's riff on the Cosmopolitan is slightly lighter in color (a true millennial pink), and more sophisticated and nuanced in flavor—you're not hit with the saccharine taste one may imagine a Cosmo to have. In Elliot's version, a cranberry cordial, developed in-house specifically for the drink, uses fresh lemon zest to add to the acidity. This new version of the Cosmo aims to "make people comfortable with ordering drinks that have been severely maligned by a lot of people," says Elliot.
Sauvage Cosmopolitan
INGREDIENTS
.25 oz Cranberry Cordial
.25 oz

lime cordial

.5 oz

Lime Juice

.5 oz

Giffard Triple Sec

2 oz

Luksusowa vodka

Lemon Zest
INSTRUCTIONS
Step two
Add ice and shake.
Step three
Strain into a coupe.
Step four
Express lemon zest over the top and discard.
Contributed by Will Elliott