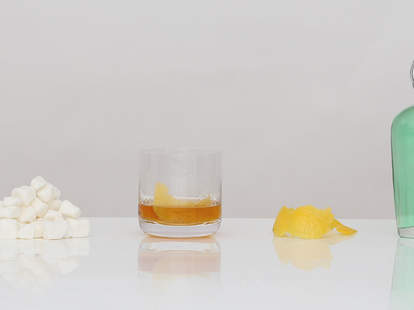 To hear the Sazerac Company tell it, in 1838 a New Orleans apothecary by the name of Antoine Peychaud invented this brandy-based drink that would eventually bear the company's name. However, according to the inestimable David Wondrich, the whiskey-based version we know and love today was created out of necessity, when a severe Cognac shortage in the 1870s forced bartenders to turn to rye and bourbon as an alternative base. He also points out that its history is sometimes exaggerated, probably by the company that makes the eponymous whiskey so often used to mix the classic drink.
However it came to be, the Sazerac has been reinvigorated in the last decade. For most of the last century, Sazeracs were made with Herbsaint—a pastis—in place of absinthe, which was banned in the United States until the early part of the 21st century. But as absinthe has become a regular feature behind bars and in liquor stores, "real" Sazeracs have made a comeback.
If you're new to the drink, be warned: Even though absinthe is only used to rinse the glass, it leaves its mark on the cocktail. The strong licorice flavor is distinctive and polarizing. But the Sazerac is worth taking some time to get to know. It is a complex cocktail that shows off the best parts of what a strong, stirred drink can be. And to drink one is to drink a part of history, even if, as Wondrich says, that history isn't always clear.
INGREDIENTS
2 oz

Rye

.25 oz

Absinthe

.5 oz Simple syrup
3 dashes

Bitters

Absinthe Spritz

Lemon Twist
INSTRUCTIONS
Step one
Chill an Old-Fashioned glass by packing it with ice (or if you have the space, chill glass beforehand in a refrigerator).
Step two
In a mixing glass, add all ingredients except for the absinthe and lemon twist.
Step three
Add ice (larger cubes are better) and stir.
Step four
Dump the ice from your first glass and rinse it with absinthe (pouring out any excess).
Step five
Pour the cocktail from the mixing glass using a julep strainer into the glass rinsed with absinthe.
Step six
Express the lemon zest over the drink and wipe the edge of the glass with the peel.
Step seven
If desired, and you have an atomizer, give the drink a misting of absinthe for a finishing touch.
Contributed by Supercall