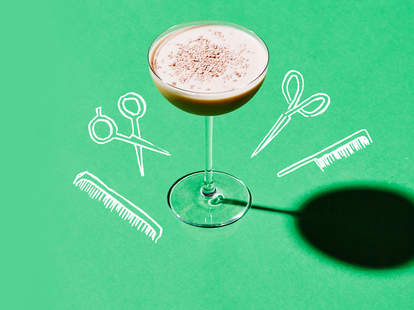 Bartender Brian Means of San Francisco's Dirty Habit mixes herbaceous Jägermeister with a sesame-infused coconut cream, tart lemon juice, rich Cognac and frothy egg whites. It's Jäger graduated with a degree in deliciousness.
INGREDIENTS
1 oz

Cognac

1 oz

Jägermeister

.75 oz Coconut Cream
.75 oz

Lemon Juice

.5 oz

egg white

Togarashi or toasted sesame seeds, for garnish
INSTRUCTIONS
Step one
Combine all the ingredients except garnish in a shaker without ice and dry shake for about 15 seconds.
Step two
Add 2 large cubes of ice and shake for another 15 seconds.
Step three
Double strain using a Hawthorne strainer and a mesh strainer into a large cocktail coupe.
Step four
Garnish with Japanese Togarashi or toasted sesame seeds.
Contributed by Brian Means