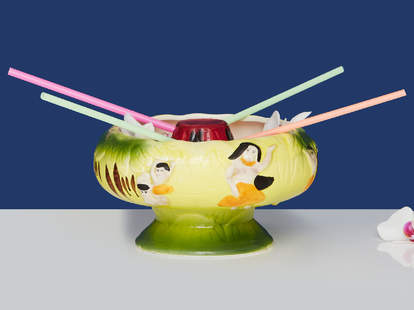 While a Scorpion Bowl may not contain any actual scorpions, the large format cocktail is still seriously dangerous. Easy to drink and served in massive proportions, it purportedly gets its name from the "sting" you feel the morning after indulging in one—so proceed with caution. Although there are infinite variations (thanks to the indecisive tiki maestro Trader Vic who popularized the punch but changed his own recipe constantly), the core ingredients of this tiki staple are rum, orange juice, orgeat and gin. Our version fills out the flavor with Cognac, pineapple juice, grenadine and white wine, along with bitters and typical tiki garnishes like fruit slices and flowers. But it wouldn't be a Scorpion Bowl without a flaming shot of 151 roaring like an active volcano out of the center of the traditional ornate ceramic bowl. This fiery spectacle takes some care when lighting (use a long lighter) and acts more as entertainment than an active ingredient in the drink (please don't try mixing the flaming shot with the rest of the punch).
To keep well clear of the flame, drinkers usually employ long bendy straws as they all tuck into the bowl from every side. This shared drinking experience comes with its own rules of etiquette, so if you want to be invited back to the next tiki luau, then you'll need to properly imbibe your communal Scorpion Bowl. Given the wallop this spirited punch can pack, you'll be thankful for the friends helping you drink it down.
As with any tiki concoction, this one works best if you make some of the ingredients yourself. Homemade orgeat and grenadine may not seem like worthy time investments, but trust us—the extra flavor is well worth the effort, even with many other ingredients competing for your attention.
INGREDIENTS
INSTRUCTIONS
Step one
Add all ingredients except for the garnishes to a large bowl and whisk together to incorporate.
Step two
Fill a punch bowl or a traditional Scorpion bowl halfway with crushed ice. Pour the cocktail over the crushed ice.
Step three
Float the flowers and orange slices on top of the drink.
Step four
If you are using a Scorpion bowl, pour the 151 into the center and light it using a long lighter. If you are using a standard punch bowl, omit the 151.
Contributed by Supercall