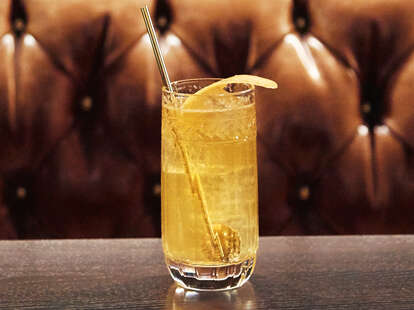 Matthew Kelly / Supercall
Created by Jessie Duré of New York's Chumley's, this take on the classic Scotch & Soda is a play in balance. Where the Singleton whisky is light and refreshing—characteristics enhanced by the grapefruit juice—the coffee bitters and drambuie are warming and cozy, adding a hefty layer of depth. It's perfect for chilly days spent curled up inside, desperately yearning for the spring thaw.
Urbanite
INGREDIENTS
2 oz

Scotch

.5 oz

Drambuie

.75 oz

grapefruit

1 dash

coffee bitters

1 dash

angostura bitters

Club soda

Grapefruit peel
INSTRUCTIONS
Step one
Build all but soda in a highball glass.
Step two
Top with fresh ice and club soda.
Step three
Express a grapefruit peel over the glass and drop it in for garnish.
Contributed by Jessie Duré