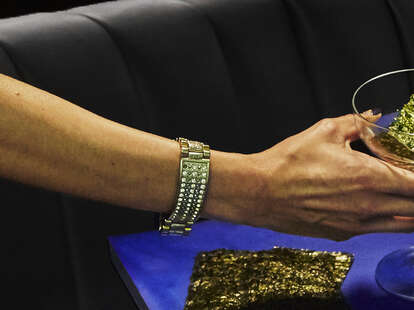 There's nothing quite as rejuvenating as breathing in the clean, salt sea air of the Maine coast. And if you order a Dirty Martini at James Beard Award-nominated Portland Hunt & Alpine Club, you'll get to taste it, too. After experimenting with his natural surroundings, owner Andrew Volk created a Dirty Martini that takes the imbiber on a nautical journey. "For us on the coast of Maine, seawater and seaweed are readily available—I actually have a bartender who harvests seaweed in his free time," Volk says. "What I love about this Martini is how the saltiness of the fino sherry and the saltwater play together to replicate the savory flavor of olive brine." Not only is it a welcome change from the usual recipe, but this Dirty Martini is also a great alternative for those who aren't bona fide olive fans.
Saltwater Martini
INGREDIENTS
2.5 oz

Gin

.5 oz

Fino Sherry

1 tsp

Seawater

Kombu
INSTRUCTIONS
Step one
Pour gin, sherry and seawater into a mixing glass.
Step two
Fill with ice and stir for 30-45 seconds.
Contributed by Andrew Volk