How to Make the Ultimate Clam Chowder for Tailgating in Seattle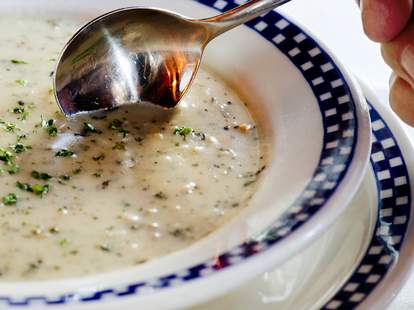 Courtesy of Ingrid Pape-Sheldon
When it comes to football, Bill Ranniger has "always been a passionate fan through the good and bad times. One my favorite starters to Sundays are Duke's Famous Bloody Bloody Marys, but if the Bloody Marys don't warm you, Duke's Clam Chowder will. Make a batch and heat it up on game day."
Duke's Award Winning Clam Chowder
Where:
Seattle
Who:
Bill Ranniger, Duke's Chowder House
Chowder Ingredients:
2 cups medium diced baby red potatoes
4 slices nitrite-free bacon
½ cup butter
2 cups medium diced onions
2 cups medium diced celery
1 tbsp small diced fresh garlic
½ cup flour or Duke's Gluten Free Flour Blend
2 tbsp clam base
1 ½ cups clam juice
1 ½ cups milk
2 ½ cups heavy whipping cream
½ tsp small diced fresh organic basil leaves
1 tsp small diced fresh organic thyme, stems removed
½ tsp small diced fresh marjoram
½ tsp black pepper
2 tbsp small diced fresh organic parsley, stems removed
1 tbsp small diced fresh organic dill, stems removed
1 lb IQF (individually quick frozen) Surf Clams (all natural)
Gluten-Free Flour Blend Ingredients:
1 cup tapioca starch
2 ½ cups white rice flour
4 cups potato starch
4 ½ cups sweet white sorghum flour
7 cups brown rice flour
Directions:
To make the flour blend: Combine and keep in an airtight container.
Blanch potatoes in boiling water until tender. Drain and set aside.
In a separate bowl, mix clam base with clam juice until dissolved.
Chop bacon (medium diced) and cook in heavy-bottomed saucepan until crispy. Add butter, onions, celery and garlic and sauté until tender.
Then, add flour and stir well to incorporate. This is the roux. Continue stirring and bring mixture to 175 degrees then cook for exactly 7 minutes. Do not brown the roux.
Add clam base/clam juice mixture to the roux (adding it after the roux has cooked prevents roux balls from forming).
Add the milk and cream, then the herbs. Heat until almost boiling (185 degrees), blending constantly with a wire whisk.
Add blanched red potatoes and Clams. Simmer at 185 degrees for 2 to 3 minutes or if possible, several hours. The Chowder will taste dramatically better after a "cure" or when the herbs have bloomed and the flavors have fully emulsified. Serve at 175 degrees.