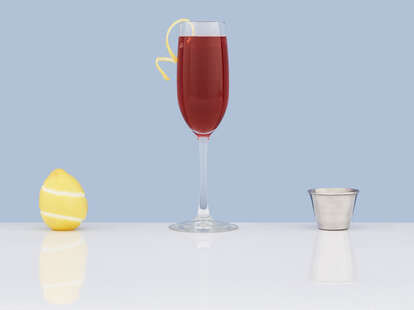 Patrick Spears / Supercall
After being named bar manager of the Old Seelbach Bar in Louisville, Kentucky, in 1995, Adam Seger supposedly made a discovery: a long-lost recipe for the Seelbach Cocktail, an appealing blend of bourbon, orange liqueur, bitters and sparkling wine that dated back to the bar's pre-Prohibition days. His story of finding the recipe quickly spread thanks to the media and cocktail writers. But in an article by The New York Times writer Robert Simonson in 2016, Seger finally fessed up: None of it was true. Seger himself invented the drink in the mid-90s. Twenty years later, the cocktail can at least be considered a modern classic, and we're frankly a little too attached to it to care.
Seelbach Cocktail
INGREDIENTS
1 oz

bourbon

.5 oz

Cointreau

7 dashes

Angostura Bitters

7 dashes

Peychaud's Bitters

Sparkling wine

Lemon twist
INSTRUCTIONS
Step one
Add bourbon, Cointreau and bitters to a mixing glass and fill with ice.
Step two
Stir until chilled, and strain into a flute glass.
Step three
Top with sparkling wine and garnish with a long lemon twist made with a channel knife.
Contributed by Supercall