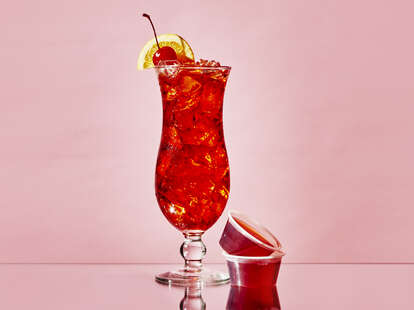 While the Sex on the Beach doesn't exactly count as a craft cocktail, it is still a classic, ripe for reinvention. The sweetness of the drink—which comes from a blend of cranberry juice, orange juice and peach schnapps—can be cloying, but when the orange juice is replaced with a packet of orange Jell-O and the cranberry juice is increased, it gets new life as one of our favorite cocktail-turned-Jello-Shots.
Sex on the Beach Jello Shot
INGREDIENTS
1 Cup

cranberry juice cocktail

1 packet

orange Jell-O

.5 Cup

peach schnapps

.5 Cup

vodka
INSTRUCTIONS
Step one
Combine the boiling cranberry juice and the orange Jell-O, and stir until fully dissolved.
Step two
Add the peach schnapps and vodka and mix thoroughly.
Step three
Pour the mixture into plastic shot glasses and refrigerate until set (about 2.5 hours).
Contributed by Anna Archibald