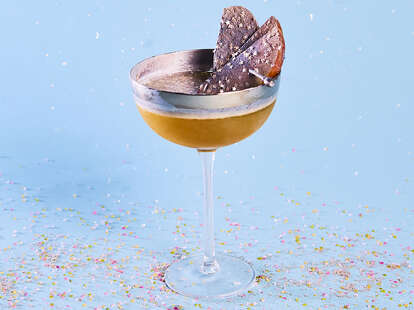 Marisa Chafitz / Supercall
This chrome-colored tipple gets its vibrant silvery-hue from a dusting of edible spray paint (available online). As statuesque as a piece of Art Deco architecture, this cocktail is essentially a glittery variation on the Amaretto Sour made with a split base of blended scotch, applejack and amaretto, fresh lemon and orange juice, and egg whites. It tastes like an Italian almond cookie dipped in an Orange Julius and (fair warning) it will leave you with shimmering silver lips.
Silver Apple
INGREDIENTS
1 oz

Applejack

0.5 oz

Blended Scotch

0.5 oz

Amaretto

0.5 oz

Lemon Juice

0.5 oz

Orange Juice

1

Egg White

Apple Fan

Edible silver spray paint
INSTRUCTIONS
Step one
Add the applejack, scotch, amaretto, lemon juice, orange juice and egg whites to a shaker tin.
Step three
Crack the shaker tin and add cubed ice. Shake again for at least one minute more.
Step five
Garnish with three slices of apple fanned out on a pick.
Step six
Spray edible silver paint on top of the egg whites and the apple fan.
Contributed by Supercall