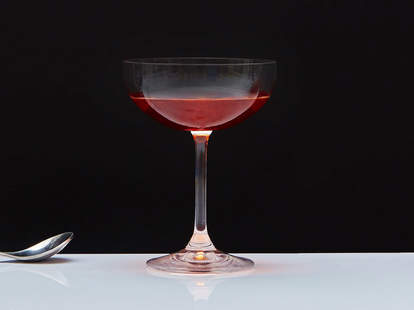 Matthew Kelly / Supercall
Gimmicky booze isn't new. Long before flavored vodka and rainbow-colored cocktails took over the internet, bartenders were astounding drinkers and raising eyebrows by mixing six spirits together in equal portions to create a miraculously well-balanced drink. Raymond Latour won the 1928 Paris Cocktail Championship with such a feat when he mixed equal parts gin, Campari, cherry brandy, sweet vermouth, dry vermouth and Dubonnet to create the Six Cylinder.
To replicate Latour's original recipe, you'll need his go-to cherry brandy, Cherry Rocher, which contains notes of cinnamon and clove in addition to the dark red fruit. While another cherry liqueur, like the more common Cherry Heering, will definitely give you a taste of this Parisian oddball cocktail, it's worth taking Latour's suggestion for an even more complex (and award-winning) drink. Somewhere between a Negroni and a Blood and Sand, this fruity, bitter cocktail will certainly leave a lasting impression.