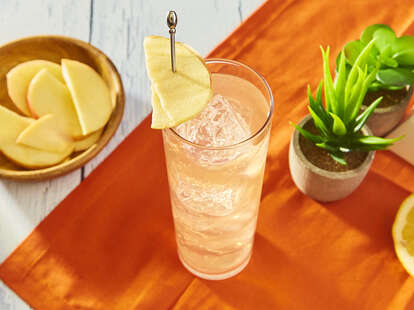 Marisa Chafetz / Supercall
While this tall, refreshing sipper from Brian Evans—head bartender at Sunday in Brooklyn—sounds super light and airy, it's more complex than you might think, thanks to a robust homemade sarsaparilla syrup. "Sarsaparilla root, a medicinal spice used to flavor root beer and sodas consumed by cowboys of the American Old West, gives a nostalgically familiar flavor of vanilla bean and licorice," Evans says. He mixes the spiced simple syrup with Neversink Gin (made using New York state apples) and Lo-Fi Dry Vermouth, which contains spices like cardamom and anise. "Together, when combined with Shacksbury's Sunday in Brooklyn Dry Rosé Cider, [the ingredients] make for a delightfully sessionable springtime Shandy," he adds.
Apples to Apples
INGREDIENTS
.75 oz

Gin

.75 oz

Dry vermouth

.5 oz Sarsaparilla Syrup
.25 oz

lemon juice

1 dash

cardamom bitters

Rosé Cider

Apple slice
INSTRUCTIONS
Step one
Add all ingredients to a Collins glass over ice and top with cider. Stir.
Step two
Garnish with thinly sliced apple.
Contributed by Brian Evans