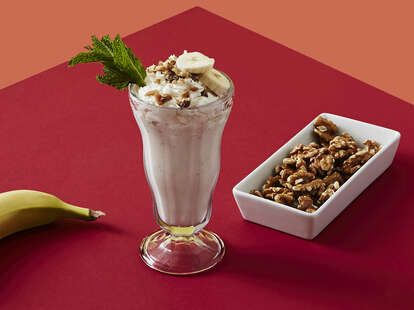 Matthew Kelly / Supercall
Hennessy is beloved by many (namely Kanye West and New Yorkers), but if you aren't familiar with the spirit, there's an easy way to become a Cognac convert. Simply mix Hennessy with banana toffee ice cream and milk, and voila—you have a delicious, boozy milkshake that'll keep the crowds coming back for more. A collaboration between head bartender Jonah Dill-D'Ascoli and head pastry chef Alon Langleib of B&B Winepub in NYC, it was an immediate hit at the bar. "It's called Top Banana because it's arguably the most popular spiked shake on the menu at B&B," Dill-D'Ascoli says. "A burger and milkshake is a classic pairing, but if we take it to the next level with the booze, it'll make you smile because the combination of flavors are perfect for before, during or after your meal." Throw some burgers on the grill, blend up a batch of these shakes and you have a recipe for the perfect summer party.
Top Banana
INGREDIENTS
1.5 oz

Hennessy

3 scoops

Banana Toffee ice cream

.25 Cup

Milk

Assorted garnishes
INSTRUCTIONS
Step one
Scoop ice cream into a blender, then pour Cognac and milk over the ice cream.
Step two
Blend until well mixed but still thick.
Step three
Top with sliced bananas, toffee crunch, walnuts, whipped cream and mint.
Contributed by Jonah Dill-D'Ascoli & Alon Langleib