Get Cozy with This Spiked Hot Chocolate
A bartender makes the case for combining whiskey and green chartreuse.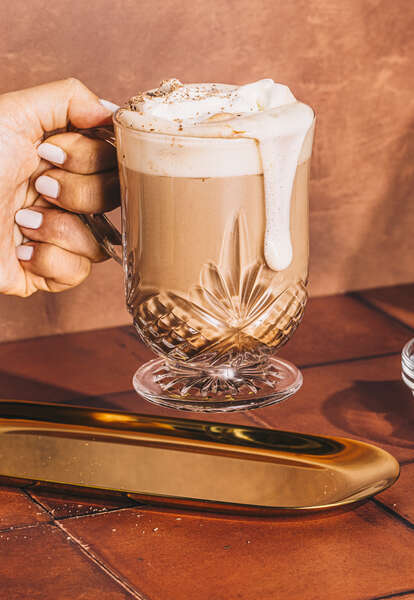 Photo by Cole Saladino for Thrillist. Photo Assistant: Mitchell Mylius. Food Stylist: Micah Morton with Big Leo. Food Stylist Assistant: Terrance Harvey.
You might not think of spiked hot chocolate as a cocktail, but it's just as much of one as Hot Buttered Rum or a White Russian. It still requires the perfect balance of ingredients and the perfect spirit. "Whiskey plays well with chocolate," Shae Minnillo, a bartender at Manolito in New Orleans, tells us.
Cozy and creamy, spiked hot chocolate is one of the most satisfying nightcaps in the world, and it's wonderfully customizable. For a fresh take on the cocktail, we asked Minnillo to provide us with his version. "This is like a hot chocolate Tipperary—sure to warm the body and the soul. Ask a cocktail bartender what to pair with hot chocolate and, invariably, they will answer with either whiskey or chartreuse—so why not have both? The flavors and textures of the spiked hot chocolate and whipped cream are perfect for colder weather."
Spiked Hot Chocolate
INGREDIENTS
2 ounces

Whiskey

1 cup

Milk

2 tablespoons

Cocoa Powder

1 tablespoon

Sugar

Chartreuse Whipped Cream
INSTRUCTIONS
Step one
In a saucepan, heat milk gently over medium heat.
Step two
When the milk starts to steam, add cocoa powder and stir until completely incorporated.
Step three
Add sugar and stir.
Step four
Pour whiskey into a mug and top with the hot chocolate.
Step five
Fill the small half of a cocktail tin halfway with heavy cream and an ounce or two of green chartreuse. Shake the cream in the shaker until it is almost solid (you'll be able to hear the difference).
Step six
Top the hot chocolate off with your shaken cream. If done correctly, the whipped cream will sit on top of the coffee and create two distinct layers.
Step seven
Using a microplane, grate dark chocolate on top of the cream and serve.
Recipe provided by Shae Minnillo