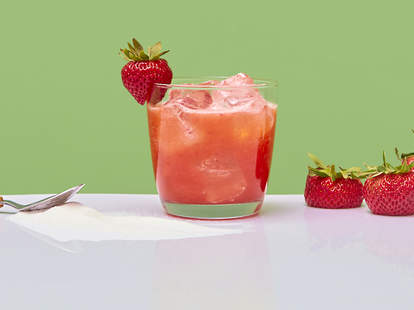 Marisa Chafetz / Supercall
Thanks to its extreme simplicity, the Caipirinha, Brazil's national cocktail made with caçacha, fresh limes and sugar, has been embraced by America. And, as America is wont to do, we quickly took to putting our own spins on the cocktail. Bartenders have added banana liqueur and coconut milk, they've swapped out the sugar cane spirit for vodka to make a Caipiroska, one company even carbonated and canned the cocktail. But the easiest way to add a little color and seasonality to the drink is to throw in whatever produce looks best at your local farmer's market. Everything from pineapple to raspberries to even shishito peppers blends seamlessly with caçacha's green and grassy flavors. But one of the most classic additions to the drink is ripe, red strawberries.
Muddled directly into the glass with the lime chunks and sugar, the strawberries add a pop of color to the cocktail along with a tasty sweetness that cuts some of the citric tartness. While we think the bits of strawberry add to the experience (and leave you with a boozy snack when you're done sipping), feel free to build the cocktail in a shaker tin and strain into a lowball over ice. You'll still get a pretty, pink cocktail that's perfect whenever strawberries are in season. However you choose to craft the cocktail, be sure to muddle with all your might. While herbs require delicate muddling, fruits like limes and strawberries need to be pulverized, so get your biceps ready.
INGREDIENTS
2 oz

Cachaça

Half a lime, cut into wedges

2

strawberries, chopped

2 Bar Spoons

Sugar
INSTRUCTIONS
Step one
Muddle lime wedges, strawberries and sugar in the bottom of a lowball or double Old-Fashioned glass.
Step two
Add cachaça and top with ice.
Step three
Stir and serve.
Contributed by Supercall