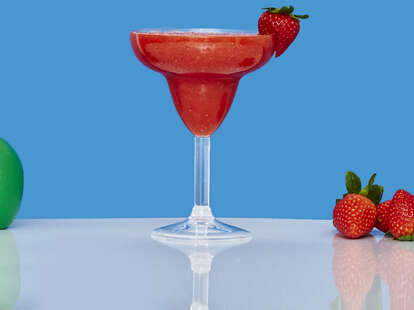 In 1922, Stephen J. Poplawski invented the blender, changing the evolution of drinks forever. Originally meant for malts and milkshakes, the blender found its true calling in the hands of Mabel Stegner who, in 1952, published a book called Electric Blender Recipes, which included a recipe for a frozen Strawberry Daiquiri. Though the drink went on to be bastardized with sugary sweet mixes and syrups, it is, at its heart, a purely delicious cocktail. So do the godfather of all frozen cocktails justice and make it using this recipe with real strawberries and good white rum.
Strawberry Daiquiri
INGREDIENTS
1 Cup

Strawberries

1 Cup

ice

4 oz

White Rum

1.5 oz

lime juice

Strawberries
INSTRUCTIONS
Step one
Add all ingredients to a blender and blend until smooth.
Step two
Divide between two glasses and garnish each drink with a strawberry.
Contributed by