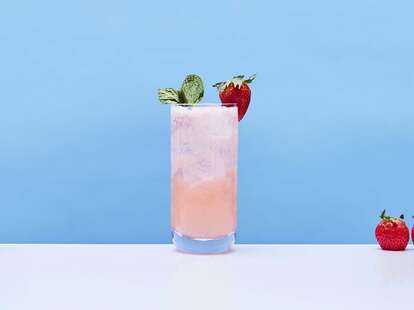 Marisa Chavetz / Supercall
With its simple base of mint, sugar, rum, lime and club soda, the Mojito is begging for fruity variations. The Strawberry Mojito was one of the first, adding ripe, red muddled strawberries to the refreshing mix. Those who shy away from sweetness might be a bit nervous about adding even more sweetness to the already sugary Mojito. And they are justified in their fears: When flavored Mojitos like the Strawberry version caught fire in the mid 2000s, giant chain restaurants added them to their menus, drowning them in sugar and artificial ingredients. The resulting cocktails were headaches in a glass. But when made correctly, with high quality ingredients and the right proportions, fruity Mojito variations need not be tooth-achingly saccharine. In fact, this Strawberry Mojito—despite its cotton candy coloring—is refreshing and vibrant. After a few different experiments in which we used less sugar and played with the amount of strawberries, we found that the best recipe was right in front of us the whole time: Our classic Mojito recipe with just a handful of strawberries added turned out to be the best. While the freshest, sweetest strawberries obviously result in the best version of this drink, you can use frozen berries if fresh strawberries aren't available. Make sure to let them thaw before using them so you can actually muddle them into the cocktail, and add any accumulated syrup so you get as much fruit flavor as possible.
Strawberry Mojito
INGREDIENTS
2 oz

White Rum

.75 oz Simple Syrup
.75 oz

Lime Juice

Club Soda

8-10

Fresh mint leaves

3-5

Strawberries
INSTRUCTIONS
Step one
Add mint, simple syrup and strawberries to a shaker tin and muddle.
Step two
Add rum, lime juice and ice to the tin and shake.
Step three
Strain into a Highball glass, fill with ice and top with club soda.
Step four
Garnish with a mint sprig and a whole strawberry.
Contributed by Supercall