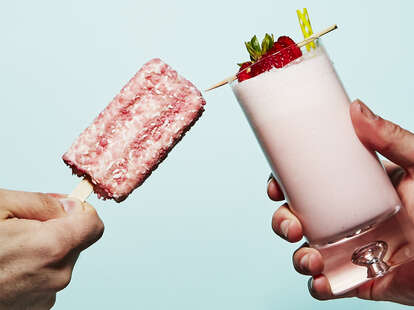 Matthew Kelly / Supercall
Strawberry shortcake is a delicious summer dessert in any form, whether as the classic stack of whipped cream, fresh strawberries and fluffy cake, or in the form of the frozen ice cream truck staple made with strawberry ice cream rolled in cake crumbs. Now, this boozy, liquid version can officially be added to the list. Inspired by the classic dessert and the frothy, creamy Ramos Gin Fizz, this happy hour-friendly take on strawberry shortcake is light, airy and packed with bright strawberry flavor. It's perfect for hot summer days or brunch-time sipping.
Strawberry Shortcake Fizz
INGREDIENTS
2 oz

London Dry Gin

1 oz

Heavy Cream

0.75 oz Strawberry syrup
0.75 oz

Lemon Juice

0.75 oz

Egg Whites

3 drops

rose water

Soda Water

Fresh strawberry, for garnish
INSTRUCTIONS
Step one
Add all ingredients to a shaker tin except for the soda water and strawberry garnish, and dry shake without ice to emulsify the egg whites. Shake for at least one minute, or longer if you can.
Step two
Crack the tin and add ice. Shake for another minute.
Step three
Strain the drink into a Collins glass using a Hawthorne strainer.
Step four
Add fresh ice and top with soda water.
Step five
Slice a strawberry into thin slices. Make a fan with three of the slices and secure with a bamboo pick. Lay the fanned strawberries on top of the cocktail, across the glass.
Contributed by Supercall