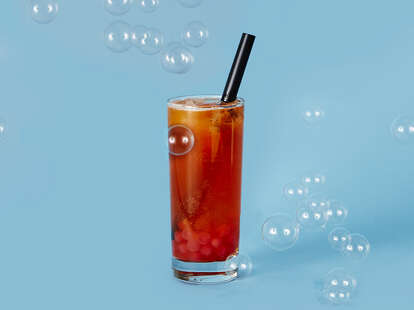 Matthew Kelly / Supercall
At L.A.'s E.P.&L.P., lead bartender Adam Nystrom shakes up tapioca-dotted refreshments that he refers to as "patio pounders." One of his seasonal bubble teas is a riff on the quintessentially '80s cocktail, the Alabama Slammer. "The mix of Southern Comfort, sloe gin, amaretto, and orange is classic, but the presentation is modern and more representative of our style," Nystrom says. "We also manage to sneak in some Southeast Asian ingredients to really bring it home." The biggest departure, other than the tapioca pearls lurking at the bottom of the glass, is the housemade SoCo, made with a dry-spiced infusion perfect for mixing. Mexican Orange Fanta replaces the usual orange juice, and gets an extra citrusy boost from pearls flavored with calamansi (a tart Southeast Asian fruit that lies somewhere between a lime and a kumquat, available online). It's an explosive mashup.
Sweet Home Alabama Slammer
INGREDIENTS
1.25 oz Homemade Southern Comfort
.25 oz

Sipsmith Sloe Gin

.25 oz

Lazzaroni Amaretto

.75 oz

lime juice

Mexican Orange Fanta, to top

Calamansi Popping Boba Pearls
INSTRUCTIONS
Step one
Add calamansi pearls to the bottom of a 16 oz boba cup (or highball glass).
Step two
Pour homemade Southern Comfort, sloe gin, amaretto and lime juice into a shaker with ice, shake and dump into the glass over pearls.
Step three
Top with Mexican Orange Fanta, add a boba straw, and serve.
Contributed by Adam Nystrom