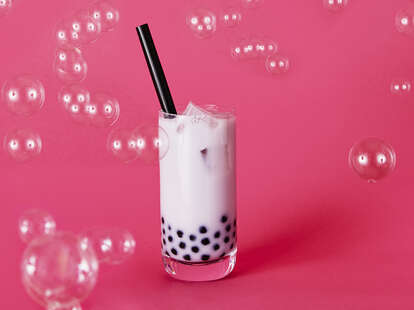 Matthew Kelly / Supercall
Boba master Elton Keung originally launched Labobatory on Kickstarter in an effort to bring tapioca lovers of San Gabriel, California, new flavors of bubble tea—including the spiked variety. One such creation takes inspiration from classic taro-flavored milk tea. He combines the East Asian dessert staple with mezcal, which he says adds a terrific smokiness to the taro. Soaking the tapioca pearls in brown sugar and honey made from longan (a relative of lychee) gives the sweet, chewy bites some floral depth, while the taro powder gives the cocktail an arrestingly bright purple hue.
The Teazone taro powder is available online, as is longan honey.
Taro Mezcal Boba
INGREDIENTS
1.5 oz

Del Maguey Mezcal Vida

2.5 oz

Teazone Taro Powder

1.5 oz

Non-Dairy Creamer

.75-1 oz

Cane Sugar

1 oz

hot water

Half a scoop (20-25 pearls)

Tapioca balls
INSTRUCTIONS
Step one
Add taro, creamer and sugar to a shaker.
Step two
Add hot water and stir thoroughly.
Step three
Add mezcal and ice, then shake.
Step four
Place boba at the bottom of a large highball glass and fill with ice.
Step five
Strain the mixer from the shaker into the glass.
Step six
Insert boba straw and slurp away.
Contributed by Elton Keung