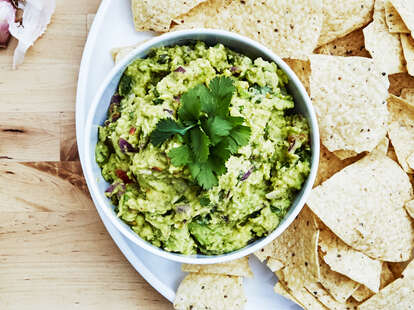 Guacamole, the creamy goddess of bar snacks and the go-to appetizer for parties everywhere, is an infinitely customizable nosh. The scoopable green stuff can include just about anything, from spices and herbs to veggies to fruit. And, like most foods, it's better with a splash of booze. We tipped a little tequila into our go-to guac and ended up with pure magic. Just a touch of the agave-based spirit or its smokier cousin, mezcal, gives the dip an alluring campfire flavor and a zippy, boozy backbone. The spirit's vegetal, earthy flavor complements the sour lime juice and salt, while also brightening the flavors of the spices. The next time you feel an avo-craving coming on, give this liquored up guacamole a shot—preferably with a Margarita somewhere close by.
The Ultimate Tequila-Spiked Guacamole
INGREDIENTS
4

Avocados

lime juice

.25 tsp

Coriander

1 tsp

Chili powder

.5 tsp

Cayenne (or to taste)

Ground black pepper, to taste

Salt, to taste

tomato, diced

red onion, diced

.25 Cup

Cilantro, chopped (or to taste)

Jalapeño

1

large clove of Garlic, diced

1 to 3 tsp

mezcal or tequila

Cilantro leaves
INSTRUCTIONS
Step one
Add the lime juice and the meat from the avocados to a bowl and mash, leaving it a little chunky.
Step two
Add the coriander, chili powder, cayenne, pepper and salt and mix thoroughly.
Step three
Stir in remaining ingredients, being careful to not to overmix.
Step four
Grab some tortilla chips and a Margarita, and get to snacking.
Contributed by Anna Archibald