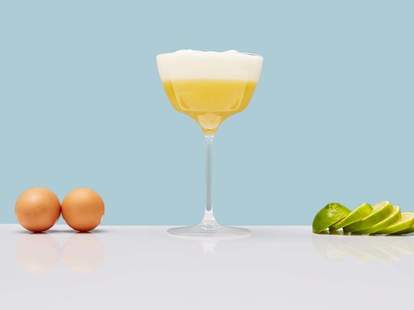 Tequila and lime juice are the peanut butter and jelly of the cocktail world. They're strikingly different, but perfect companions and delicious together. The Margarita and the Paloma didn't become two of the most popular drinks in the world by accident. The bright, vegetal flavors of blanco tequila always complement the citrusy, sourness of fresh lime juice perfectly, and this drink is no exception.
This is a Sour made in the post-Prohibition style, which means it includes a raw egg white—Jerry Thomas's original Sour recipes circa 1862 didn't call for egg white. But we like how the egg white elevates what is otherwise, essentially, just a Margarita served up. It takes the already delicious sour mixture and adds a silky smoothness to it. The change in texture completely transforms the cocktail. And we know that drinking raw egg can cause some people to become a little squeamish, but as long as you use fresh eggs you have nothing to worry about. Just make sure you really shake everything hard without ice—that's called a dry shake—before adding ice to dilute it and chill it down. You'll know you've done it right if, when you strain the drink into your glass, you get a thick, frothy white head that's between half an inch and one inch high and separated from the rest of the drink. If the whole drink comes out homogeneous it will still taste alright, but the next time you make one try shaking it more vigorously and for a longer time to get the full effect.
INGREDIENTS
2 oz

Blanco Tequila

.75 oz

Lime Juice

.5 oz Agave Syrup
1

Egg White
INSTRUCTIONS
Step one
Add all ingredients to a shaker without ice and shake hard to froth the egg white.
Step two
Add ice to the shaker and shake again.
Step three
Strain into a coupe.
Contributed by Supercall