Tequila Sunrise Jello Shot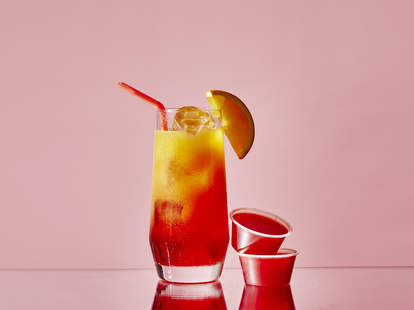 The thing that makes a Tequila Sunrise a Tequila Sunrise is its orange to red "sunset" transformation as it moves down the glass. At least, until now. We've transformed the drink Mick Jagger made famous into a Jello Shot, which is perhaps the only way to make a Tequila Sunrise more party friendly. Because let's face it, if you are drinking a Tequila Sunrise, it's not because you're in the mood to be taken seriously.
While it may lose some of its color-shifting appeal in gel form, we promise that the flavor is all there. And of the many, many cocktails that we've turned into Jello Shots, the Tequila Sunrise undergoes the transformation better than most because it's already a sweet, boozy concoction intended for a good time. In addition to a packet of cherry Jell-O, the recipe calls for orange juice and tequila to achieve that classic Tequila Sunrise taste. And don't worry, the agave isn't overpowered by the other ingredients, especially if you use fresh squeezed OJ. While you're at it, deck out the house with a whole summer Jello Shot spread, filled with Margaritas, Negronis and Blue Hawaiis.
INGREDIENTS
1 Cup

orange juice

1 packet

Jell-O

.5 Cup

tequila

.5 Cup

orange juice, chilled
INSTRUCTIONS
Step one
Combine the boiling orange juice and the cherry Jell-O, and stir until fully dissolved.
Step two
Add the tequila and remaining orange juice and mix thoroughly.
Step three
Pour the mixture into plastic shot glasses and refrigerate until set (about 2.5 hours).
Contributed by Anna Archibald