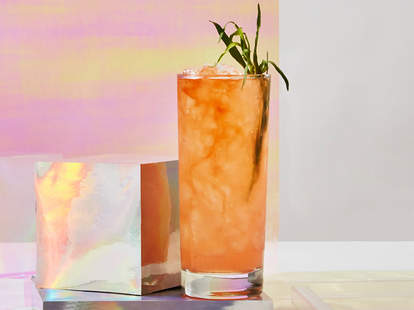 Light up your corner of the club, or the deck, with this bold and bright number. The New Orleans bitters add sweet floral aromas on top and trickle down into the drink, which is perfectly balanced, with the bitter notes in the Italian aperitif offsetting the lightly sweetened, bright citrus of the fresh grapefruit and lime juices. Plug in the anise-like scent of the tarragon garnish, and this one glows with flavor.
Please drink responsibly.
TANQUERAY NO. TEN Gin. 100% Grain Neutral Spirits. 47.3% Alc/Vol. Imported by Charles Tanqueray & Co., Norwalk, CT.
INGREDIENTS
1.25 oz

Tanqueray No. TEN

.5 oz

Italian Bitter Aperitif

.75 oz

Fresh Grapefruit Juice

.75 oz

Fresh Lime Juice

.5 oz Simple Syrup
3 dashes

New Orleans–Style Bitters

1 sprig

Tarragon
INSTRUCTIONS
Step one
Combine all ingredients except bitters in a shaker with ice.
Step two
Shake. Strain on pebble ice in a Collins glass.
Step three
Layer bitters on top.
Step four
Garnish with tarragon.
Contributed by Zach Lynch