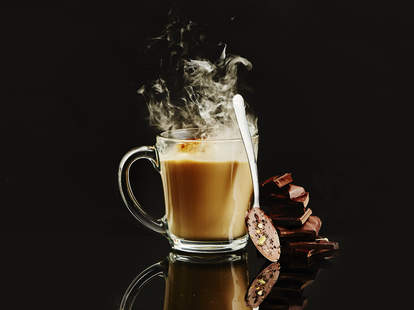 Bartender Lana Gailani of New York's Seamstress wanted to create a festive hot cocktail that went beyond spiking a mug of hot chocolate with a slug of whatever spirit was close at hand, so she looked to three exotic C's for inspiration: chai, chile and coconut. The result was the Warm-Hearted, a spicy-sweet-creamy crossover between chai tea and hot cocoa. It gets an extra kick of heat from fiery Patrón XO Incendio (a tequila-based liqueur infused with Criollo chocolate and arbol chile), while chai tea gives it that wintery spice, and coconut milk makes it extra decadent. For a show-stopping garnish, Gailani serves the drink with a spoon dipped in dark chocolate and a nostalgia-inducing roasted marshmallow. It's a chocolate-and-chile lover's dream that will warm you inside and out.
INGREDIENTS
1 oz

silver tequila

2.25 tsp

Patrón XO Incendio

1.5 oz

milk

1.5 oz

coconut milk

.25 oz galangal syrup
1/8 tsp

chai tea

marshmallow

chocolate spoon
INSTRUCTIONS
Step one
Combine all ingredients except for garnishes in a saucepan and whisk together. Heat gently until steaming.
Step two
Carefully pour the cocoa into a mug, and garnish with a large marshmallow.
Step three
Toast the marshmallow with a torch or over a fire, drop it into the mug, and serve the cozy cocktail with the chocolate-dipped spoon for swirling.
Contributed by Lana Gailani