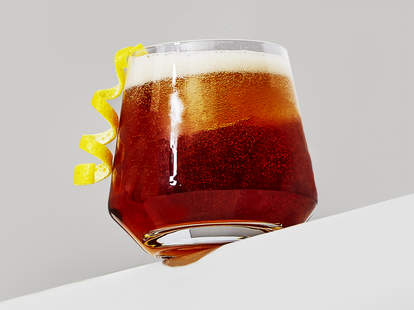 Matthew Kelly / Supercall
Created by Blacktail's Jesse Vida, this regal take on a Rum & Coke pairs Bacardi's upper echelon spirit—Facundo Neo white rum—with a cola simple syrup. Cane sugar sweetness is accented with a bitter Fernet Branca edge, then the drink is topped with Champagne for some toasty effervescence. Great for when you're feeling fancy, but not too fancy.
INGREDIENTS
1 oz

Bacardi Facundo

0.75 oz Cola Syrup
0.5 tsp

Fernet Branca

1 dash

Orinoco Bitters

4 oz

Champagne

Lemon twist, for garnish
INSTRUCTIONS
Step one
Add all ingredients except for the garnish and Champagne to a highball or double old-fashioned glass and add cubed ice.
Step two
Top with Champagne and stir with a bar spoon to incorporate.
Step three
Garnish with a lemon twist.
Contributed by Jesse Vida