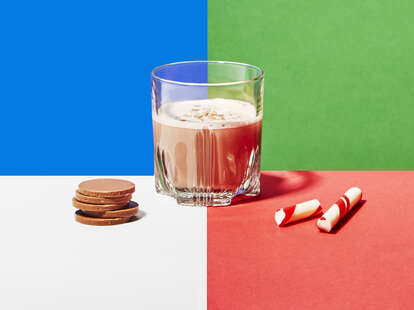 What happens when the first night of Hanukkah falls on the evening of December 24th, aka Christmas Eve? According to the aughts' teen soap opera The O.C., you get a holiday amalgam called Chrismukkah. To honor this harmonious merging of Hanukkah and Christmas, we created one singularly delicious cocktail that plays off of some of the best treats from the Jewish and Christian holidays. We dubbed it the Chrismukkah Flip.
The drink starts with a base of potato vodka, to represent crispy, starchy latke potato pancakes, and a whole egg, to invoke creamy Eggnog. Next up, a pour of ruby port—a favorite post-holiday dinner fortified wine. To sweeten up the mixture, we added a touch of chocolate liqueur, to channel both the gold-wrappered gelt coins wagered during Hanukkah games of dreidel, as well as that stocking staple, a chocolate Santa. We added some raspberry liqueur to channel sufganiyot, jelly-filled doughnuts that are popular Hanukkah treats. And, to top it all off, we garnished the drink with grated gelt and candy cane.
Get ready for the best holiday mashup you've ever tasted.
Chrismukkah Flip
INGREDIENTS
1.5 oz

vodka

1

egg

1 oz

ruby port

.75 oz

raspberry liqueur

.5 oz chocolate liqueur

Grated gelt and candy cane
Contributed by Supercall