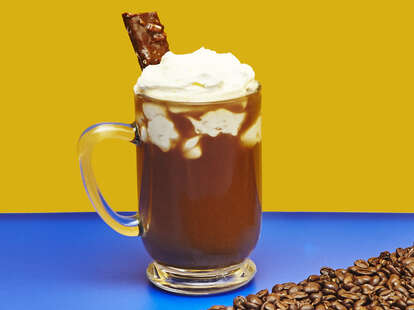 Chauncey Roach of the Bit House Saloon in Portland, Oregon, was inspired to create this Southern spin on an Irish Coffee upon awaking from a sultry dream about a certain TV cooking show host. Homemade pecan milk and sorghum syrup join bourbon and hot coffee in a silky, nutty cocktail, which is topped in excessive Paula Deen fashion with a luxurious helping of Chantilly cream and pecan brittle.
Breakfast With Paula Deen
INSTRUCTIONS
Step one
Add bourbon, pecan milk and sorghum syrup to a mug and stir.
Step two
Top with hot coffee.
Step three
Garnish with Chantilly cream and a crumble of pecan brittle.
Contributed by Chauncey Roach