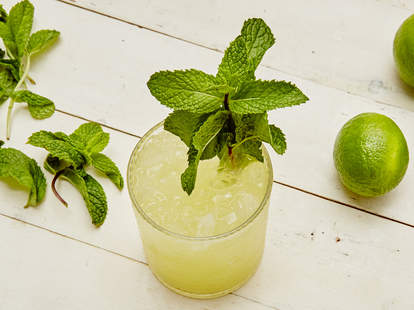 Cognac makes a rare cameo in this Gin and Tonic from Chicago's Scofflaw. It might seem odd, but the French brandy brings warmth to the classically refreshing cocktail. Alongside a base of gin and bitter Boomsma Cloosterbitter liqueur, the Cognac gets some autumnal help from falernum and orange saffron bitters.
INGREDIENTS
1 oz

gin

.25 oz

cognac

.25 oz

Boomsma Cloosterbitter

.5 oz

Brovo Lucky Falernum

.5 oz

Fentimans Tonic

.5 oz

lime juice

9 drops

Weatherbys Orange Saffron Bitters

Mint sprig, for garnish
INSTRUCTIONS
Step one
Add all ingredients save for the garnish to an Old Fashioned glass and fill with crushed ice.
Step two
Swizzle to mix, and garnish with a mint sprig.
Contributed by Mike Dumapias