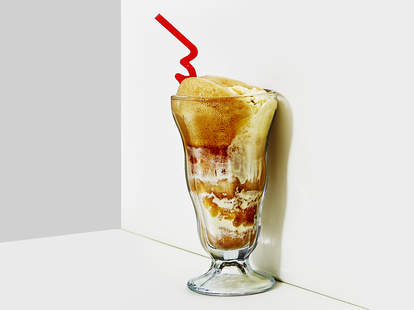 Matthew Kelly / Supercall
The next time you find yourself reminiscing about the good old days at the soda fountain, satisfy your ice cream float cravings with this grown-up take on the classic dessert. It combines the nostalgic duo of cola and vanilla ice cream with the tropical booziness of white rum. A few dashes of Angostura bitters temper the drink's sweetness, while adding a sarsaparilla funk. Instead of using the usual corn syrup-sweetened cola, we suggest malty, sugarcane-based Mexican Coke.
INGREDIENTS
4 oz

White Rum

2 scoops

Vanilla Ice Cream

7-10 dashes Angostura Bitters

Mexican Coke
INSTRUCTIONS
Step one
Add the rum, bitters and ice cream to a milkshake glass.
Step two
Pour Mexican Coke on top and serve with a straw and a long spoon.
Contributed by Supercall