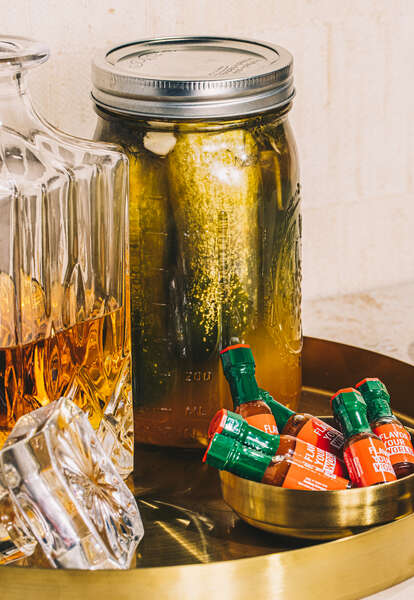 Photo by Cole Saladino for Thrillist. Photo Assistant: Mitchell Mylius. Food Stylist: Micah Morton with Big Leo. Food Stylist Assistant: Terrance Harvey.
We're always up for a twist on the classic Pickleback shot. There's something about that briny goodness that makes the whiskey go down that much easier. But to make the whole process even more seamless, we decided to soak dill pickles in whiskey and hot sauce, and skip the shot glasses all together.
When it comes to the hot sauce, Shae Minnillo, a bartender at Manolito in New Orleans who shared the recipe below, says Tabasco, Sriracha, or Crystal are great options. "This is a simple Pickleback hack. Just adding a little hot sauce accentuates the vinegar aspects of pickling and gives a nice kick to the classic combo. The addition of hot sauce to pickles lends to more flavor without detracting from the whiskey in this fun partnership," Minnillo explains. "The hot sauce brine will also taste great in a Bloody Mary or something similar!"
Pickleback Pickles
INGREDIENTS
1 quart

Pickles

2 ounces

Whiskey

1 ounce

Hot Sauce
INSTRUCTIONS
Step one
Pour out enough pickle brine to make room for the whiskey. Add 2 ounces of whiskey and an ounce of hot sauce to the jar. Give it a good shake.
Step two
Place the jar in the refrigerator and let sit for 24 hours. Pass out the Pickleback pickles to all of your friends and enjoy.
Recipe provided by Shae Minnillo